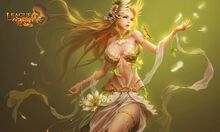 Sylvia has power over all things in nature, big or small. She devotes a large amount of her time protecting humans from the various creatures that roam the forest.
To get Sylvia, you must be level 30 and your Title must be Knight ****
Angel Battle rating and status
(Level.1)
Angel MATK - 1055
Angel Agility - 270
Hit - 16
Crit - 16
Crit Damage - 12
Angel Skill: Sandstorm lvl.1 - Deals Magic DMG of (150% ATK + 300) to all enemies
Sylvia's Halo:
- Halo stage: lvl.3
- Halo rank: lvl.1
Effect: PATK + 125 at back row: middle space, HP + 400 at front row: middle space
B.R. 735
Ad blocker interference detected!
Wikia is a free-to-use site that makes money from advertising. We have a modified experience for viewers using ad blockers

Wikia is not accessible if you've made further modifications. Remove the custom ad blocker rule(s) and the page will load as expected.