Stamina is a Basic Resource Found in alot of places in League of Angels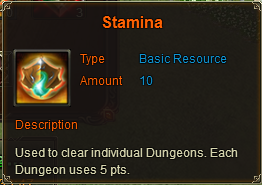 There are Events that use Stamina
Stamina Bar Cap is 300 Stamina
*NOTE* You Can Go Over the Stamina Cap Example: STA 420/300
But you Wont be Able to Recover Any More Stamina Every 30minutes (or at 12:00 and 18:00)

Events that Gain Stamina:
If you ever want to keep your Stamina Over 300 its possible.

Elemental Zone (Achievements) *Gotta Buy the STA*
Guild Feast (5-20 Stamina, Limit 3 Feasts per day) *DAILY*
FB inbox (+5 Stamina per Friend, Limit 10) *DAILY*
Recover +5 Stamina Every 30minutes Limited up to 300 STA
Recover +50 Stamina at 12:00 and 18:00 (Server time) Limited up to 300 STA
You can Purchase Stamina +20 for 100 Diamonds
Online Bonus +30 Daily *DAILY*
House of Cards (BUY DAILY VALUE PACKS)
Events that Cost Stamina
Ad blocker interference detected!
Wikia is a free-to-use site that makes money from advertising. We have a modified experience for viewers using ad blockers

Wikia is not accessible if you've made further modifications. Remove the custom ad blocker rule(s) and the page will load as expected.