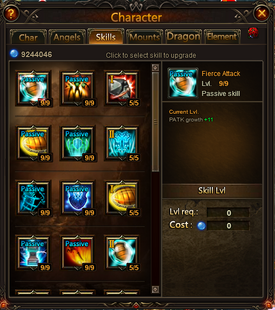 Skills is a Function Found in Character Allowing you to upgrade your Skills, depending if your a Warrior, Mage or Archer
You Initially Start with 1 of your Skills when you pick a Class at Lv 5
When you gain more Skills its 50% Per Trigger Rate
If you Decide to use Awakening Skills the Trigger Rate is 35%
You will need to get Books, from Team Dungeon
Main Component: Warsouls and Level
Hero Skills:
Hero Skills helps improve the Heroes Passive Skills.
Main Component: Blessed Stone
Requirements: [Upgrade +6] for the 1st 3 stars [Upgrade +12] 6stars [Upgrade +18] to 9 stars [Upgrade +21] Last Star
Heroes Passives: Topaz - Ruby
Hero Passives: Celestials
Ad blocker interference detected!
Wikia is a free-to-use site that makes money from advertising. We have a modified experience for viewers using ad blockers

Wikia is not accessible if you've made further modifications. Remove the custom ad blocker rule(s) and the page will load as expected.