| Level | BR | MATK | Agility | Hit | Crit | Crit Damage | Ice DMG | Fire DMG | Electro DMG | Angel RES Reduction |
| --- | --- | --- | --- | --- | --- | --- | --- | --- | --- | --- |
| 1 | ? | 56716 | 14214 | 1367 | 1296 | 1144 | ? | ? | ? | ? |
| 90 Evolution Unearthly | 184477 | 221190 | 55378 | 6212 | 6075 | 4782 | 14000 | 14000 | 14000 | 0 |
Backstory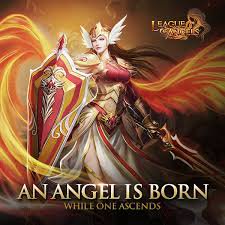 Serrin was once a GM on R2 platform. However, she passed away, leaving her soul in Titania (lvl.81 - 90). She was then reincarnated into the angel 'Serrin' by GTArcade and became one of the most memorable, honorable and respected angels in the League of Angels.
Ad blocker interference detected!
Wikia is a free-to-use site that makes money from advertising. We have a modified experience for viewers using ad blockers

Wikia is not accessible if you've made further modifications. Remove the custom ad blocker rule(s) and the page will load as expected.