Mikaela is one of the strongest angels in the land.
Before evil crossed the boundary between Good and Evil, she was a seraph who was, not surprisingly promoted to the highest rank of Angel due to her unbelievable strength and talent in warfield. Her flaming wings and blazing eyes as well as her sword of flames come witness to her outstanding exploit.
But when evil crossed the land, she vows to defend the land and pulverize those who stand in the way of light.
Her attacks light up the sky and draw in fear in evil.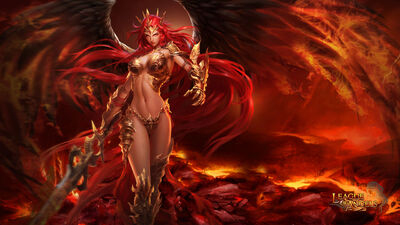 Angel Battle rating and status
(Level.1)
Angel MATK - 1520
Angel Agility - 390
Hit - 36
Crit - 36
Crit Damage - 28
Fire DMG - 50
Angel Skill: Lava Flow lvl.2 - Deals 170% DMG to all enemies
Mikaela's Halo:
- Halo stage: lvl.0
- Halo rank: lvl.1
Effect: ATK + 200 at back row: middle space and top space, Crit +40 at back row: bottom space, HP + 640 at front row: middle space
B.R.
Ad blocker interference detected!
Wikia is a free-to-use site that makes money from advertising. We have a modified experience for viewers using ad blockers

Wikia is not accessible if you've made further modifications. Remove the custom ad blocker rule(s) and the page will load as expected.